Office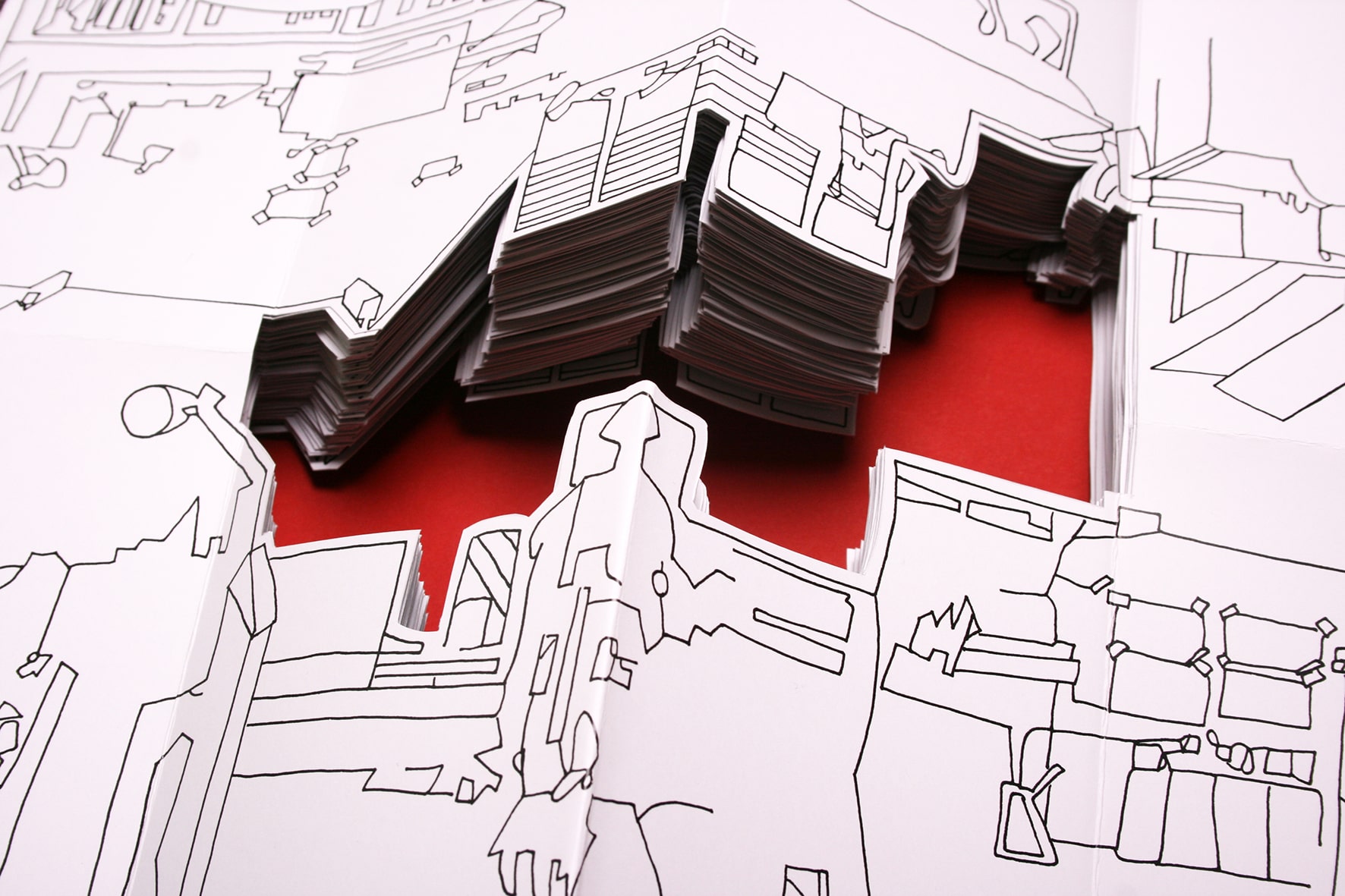 Office
2016
Digitally printed hand cut book / fold / plan
Edition of 65 plus 5 Artist Proofs
The office: site of activity, place of work, of exchange, discussion, decision making, container for current and archive material. Cooperative working, multifaceted projects and the physicality of the team are all held by the office, and is still relevant against a backdrop of contemporary developments in home and mobile working. It acts as a locus for communication, facilitating conversations which are regular, expanded, overheard and decisive. Digital devices and traditional skills are dextrously intertwined as ideas and projects are developed. Rather than an outdated modus operandi the office supports a business methodology which facilitates the creative and collaborative performance of a task.
Artists have long been fascinated by places of work, production facilities and the people who work there. From depictions of new industrial processes such as Philip James de Loutherbourg's Coalbrookdale by Night, to the interactive methods of the Artist Placement Group (APG), where artists were placed in industry contexts and government departments. Invitations to business environments have yielded books that record employees at work, such as Lee Friedlander's Cray at Chippewa Falls. More recently the Siemens Arts Programme supported London based collective Public Works to develop and offer a series of creative workshops across 13 Siemens sites in Great Britain, engaging employees to consider how they could help shape the future of the company.
Working as artist in residence with HAT Projects allowed me to consider the nature in which the architectural practice operates. With an open invitation to look, explore, ask, document and develop, and following the APG approach Context is Half the Work, a realisation that the HAT Projects' office was a subject in its own right led to observations of the office aesthetics. A digital sketchbook tracked progress and organised thoughts, and a series of three dimensional investigations were created before ultimately being abandoned. The final artwork came from an ambition to create a form that could be read and manipulated in a number of ways: book, fold, plan.
Office operates as an employee and corporate gift, and as an artwork provoking thinking and questioning about places of work, the activities that take place within them and specifically the ways in which architects move between two and three dimensional forms when designing buildings. Office is the first in a series of company books created to reflect, interpret and explore the world of work and business. Office is part of a wider research project, Commerce and Culture, undertaken in my role as Associate Artist with the Learning Team at Firstsite. Through a series of one to one conversations, focus groups and research review I explored the ways in which artists, arts organisations and commerce can work together and learn from one another.
Credits
Supported by Firstsite and HAT Projects